Team Meerkat (Y3/4)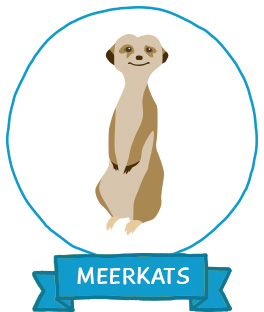 Welcome to Meerkat Class
Welcome to Team Meerkat's Class Page!
Mrs Arnott, Miss Sykes, Miss Dobson and Mrs Rawnsley are very much looking forward to the year ahead. Keep checking our page to find out what we've been learning about!
To download our latest newsletter, follow this link.
Autumn Learning
Team Meerkat met real meerkats (and many other fascinating animals) at 'The Yorkshire Wildlife Park'! We all had a wonderful time on our visit. We learned about the natural habitats of the animals and we used classification keys to group animals in a variety of ways. The children then extended their learning by researching threats to habitats and created small world environments depicting these threats.
In mathematics, the children have been studying place value, column addition and column subtraction. We have been making use of dienes and place value counters, amongst other resources, to demonstrate exchanges (for example if the ones column adds to give a total of 18, we would exchange ten ones for one ten, leaving just 8 ones in the ones column). Home learning tasks are set regularly on Mathletics to support class learning.
We have recently finished reading our class text 'Beowulf' and are now looking forward to using a new wonderfully magical book. We use our reading books as inspiration for our writing - writing narratives, letters, diaries and instructions (to name just a few)! At home, we encourage the children to read daily.