PE
Throughout Years 1-6, each class will receive two 1 hour long sessions of physical activity per week. One of these sessions is taught by the class teacher and the other session is led by specialist sports coaches with the support of the teacher. All sessions contain elements required by the National Curriculum.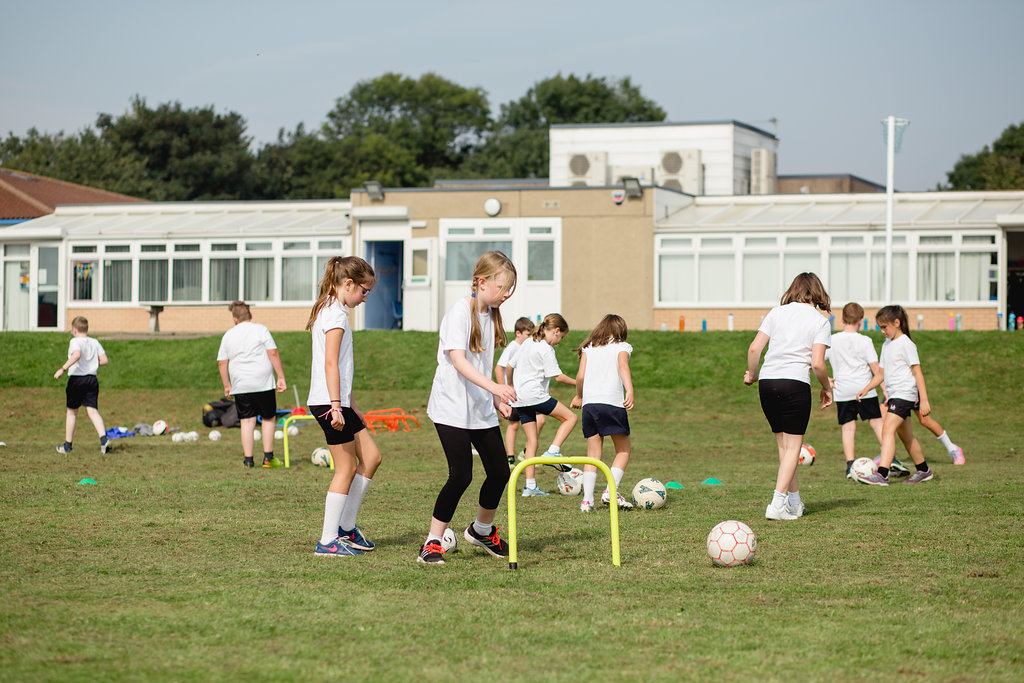 KS1 pupils should be taught to:
Master basic movements including running, jumping, throwing and catching, as well as developing balance, agility and co-ordination, and begin to apply these in a range of activities
Participate in team games, developing simple tactics for attacking and defending
Perform dances using simple movement patterns. (New National Curriculum)
KS2 pupils should be taught to:
Continue to apply and develop a broader range of skills, learning how to use them in different ways and to link them to make actions and sequences of movement.
They should enjoy communicating, collaborating and competing with each other.
They should develop an understanding of how to improve in different physical activities and sports and learn how to evaluate and recognise their own success.
Use running, jumping, throwing and catching in isolation and in combination
Play competitive games, modified where appropriate [for example, badminton, basketball, cricket, football, hockey, netball, rounders and tennis], and apply basic principles suitable for attacking and defending
Develop flexibility, strength, technique, control and balance [for example, through athletics and gymnastics
Perform dances using a range of movement patterns
Take part in outdoor and adventurous activity challenges both individually and within a team
Compare their performances with previous ones and demonstrate improvement to achieve their personal best.
pe kit
For the Health and Safety of all our pupils, it is important that the correct PE kit is worn for all PE lessons. Changing into appropriate clothing is an important part of the routine. Details of the appropriate kit can be found in the School's Uniform Policy. Teachers should also wear appropriate clothing.
Long hair must be tied back and jewellery must be removed. Teachers will not take responsibility for looking after jewellery.
boys
Girls
White t-shirt
Navy or black leotard or white t-shirt
Navy or black shorts
Navy or black shorts or Skort

In winter months, navy or black tracksuit

trousers/jogging bottoms and

sweatshirt/jacket

In winter months, navy or black tracksuit

trousers/jogging bottoms and

sweatshirt/jacket

Trainers for outdoor PE

(gymnastics, dance and indoor games

will be in bare feet)

Trainers for outdoor PE

(gymnastics, dance and indoor games

will be in bare feet)
Children who forget their kit will be required to wear the spare kit available in each class. This is of limited size and availability. A reminder slip will also be sent home.
Swimming
Children in Team Meerkat (Year 3/4) will have swimming lessons during the Summer Term. Swimming lessons usually take place at Ackworth School. School provides coach transport to and from the pool during the school day.
Children need the following swimming kit for their lessons:
| boys | Girls |
| --- | --- |
| Swimming trunks above the knee | A one-piece swimming costume |
| Towel | Towel |
Children may also bring goggles, however the teacher will not take responnsibility for these. Long hair must be tied back.
medical conditions
School should be informed by parents if children are unable to participate through illness or injury.
It is the responsibility of the teacher to take note of any medical conditions of individual children in their class (such as asthma, diabetes or epilepsy) so they can participate safely and as fully as possible. It should be noted that cold dry weather will exacerbate breathing problems for asthmatics and they should have their inhalers at hand if necessary.
Inclusion
Inclusion in Physical Education means that all children have access to and are given confidence in the 6 activity areas, regardless of race, gender and ability. We aim to create an environment in which all children learn to respect and value each other and each other's interests.