Team Dolphin  (Y1/2)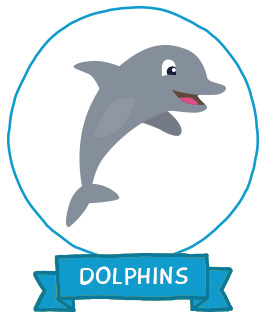 Welcome to Dolphins Class
Welcome to Team Dolphin!
Miss Kaiper and Mrs Gibson are proud to work with Team Dolphin. We are always doing lots of exciting things in our classroom, and hope to keep you updated with any new information about our learning, so keep checking back in.
In Team Dolphin, the children worked together to create their own 'Golden Rules' at the start of the year. The children decided that it is important that we are kind to others, we keep learning and always try our best and we listen carefully and follow instructions. We should care about our learning environment and do our best to keep it tidy. We also try hard to respect other people and their opinions, and give praise where it is due.
We also work hard to grow our minds, because we know that we have to challenge our brain to make it stronger. If we are struggling, we know that it is not that we can't do it, we just can't do it YET.
For our latest class newsletter, including important dates, please click here.
Spring Learning
This term, our topic in Team Dolphin is 'Amazing Adventures'. We will be learning about explorers and adventurers from all over the world, focusing on Captain Scott of Antarctica and Outback explorer Robyn Davidson, before blasting off to discover more about space explorers Neil Armstrong and Tim Peake. We will be learning the names of the world's 7 continents and 5 oceans, and comparing climates all over the world to the one we live in in England. We will be making Australian Anzac biscuits, building cotton wool igloos, and imagining what it would be like to see the earth from outer space. We will also be reading texts such as "The Last Polar Bears" and traditional Aboriginal dreamtime stories to aid our learning.
In Maths, we will be using Effective Maths to work on time, money and geometry. It would be fantastic if you could allow your children to get involved with paying for small things at home, such as counting the coins for a pint of milk.
In Science, we will be looking at Living Things and Their Habitats, which includes classifying objects into whether they are alive, dead or have never been alive, as well as researching which animals live in different habitats, and how they are suited to their environments.
Please have a look at our knowledge organisers and newsletters for more information and updates on our learning in Team Dolphin.