Team Dolphin  (Y1/2)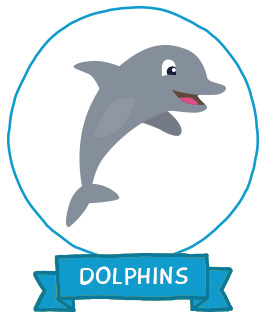 Welcome to Dolphins Class
Welcome to Team Dolphin!
Miss Kaiper and Mrs Gibson are proud to work with Team Dolphin. We are always doing lots of exciting things in our classroom, and hope to keep you updated with any new information about our learning, so keep checking back in.
In Team Dolphin, the children worked together to create their own 'Golden Rules' at the start of the year. The children decided that it is important that we are kind to others, we keep learning and always try our best and we listen carefully and follow instructions. We should care about our learning environment and do our best to keep it tidy. We also try hard to respect other people and their opinions, and give praise where it is due.
We also work hard to grow our minds, because we know that we have to challenge our brain to make it stronger. If we are struggling, we know that it is not that we can't do it, we just can't do it YET.
For our latest class newsletter, including important dates, please click here.
Autumn Learning
This term, our topic in Team Dolphin is 'Once Upon a Time'. We will be learning about traditional tales using texts such as "The Jolly Postman" and "The True Story of the Three Little Pigs" to aid our learning. We will share lots of traditional tales and work at becoming so familiar with them that we can recite them by heart. We will be writing our own traditional tales by thinking about re-occurring structures and characters. We will be making puppets to put on puppet shows of our tales, and looking at styles and techniques of different children's illustrators. We may even have our own dress up Fairytale day!
In Maths, we will be using Effective Maths to work on Number and Place Value, and Addition and Subtraction. We will be focusing on number formation and ordering , and thinking about how to count in 2s (Year 1) and 3s (Year 2). Later in the term, Year 1 will look at number bonds to 10 and 20, and Year 2 will look at calculations with two and three digit numbers.
In Science, we will be learning about Everyday Materials. We will be making sure we can distinguish between an object and the material it is made from, and we will begin to discuss why a material is a good or bad choice for an object based on its properties.
Please have a look at our knowledge organisers and newsletters for more information and updates on our learning in Team Dolphin.