Team Dolphin  (Y1/2)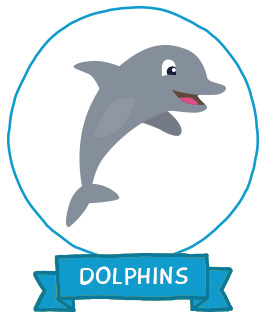 Welcome to Dolphins Class
Welcome to Team Dolphin!
Miss Kaiper and Mrs Gibson are proud to work with Team Dolphin. We are always doing lots of exciting things in our classroom, and hope to keep you updated with any new information about our learning, so keep checking back in.
In Team Dolphin, the children worked together to create their own 'Golden Rules' at the start of the year. The children decided that it is important that we are kind to others, we keep learning and always try our best and we listen carefully and follow instructions. We should care about our learning environment and do our best to keep it tidy. We also try hard to respect other people and their opinions, and give praise where it is due.
We also work hard to grow our minds, because we know that we have to challenge our brain to make it stronger. If we are struggling, we know that it is not that we can't do it, we just can't do it YET.
For our latest class newsletter, including important dates, please click here.
Spring Learning
This term, our topic in Team Dolphin is 'Wonders of The World'. We will be learning about incredible buildings and structures all over the world, including the Pyramids of Giza, The Colosseum, The Great Wall of China, Chichen Itza, and Christ the Redeemer. We will study the geographical features, customs and traditions of each place compared to life in Yorkshire, and link this to our learning about the continents and oceans.
In Maths, we will be using Effective Maths to move onto block 2 of our learning, where we dive deeper into topics covered in Autumn. Year 1 will begin by re-visiting place value, looking at recognising, comparing and ordering numbers up to 70, before moving onto their second unit on calculation, which will include addition and subtraction as well as multiplication and addition. Year 2 will start the term with a unit on fractions, before moving onto Geometry where they will revise their knowledge of 2D and 3D shapes, before focusing on symmetry and translation.
In Science, we will be learning about Plants, where we will find out about the structure of a plant, learn to identify different plants and trees through close observation of their properties, and work scientifically to find out what conditions plants need to survive and thrive.
For information regarding home learning for the Spring 1 half term, please see our home learning tab.