Team Dolphin  (Y1/2)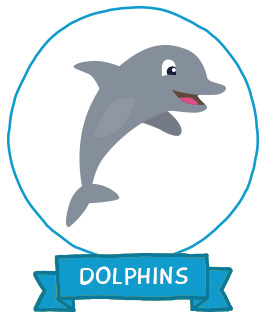 Welcome to Dolphins Class
Welcome to Team Dolphin!
Miss Kaiper and Mrs Gibson are looking forward to a fantastic year in Team Dolphin. We are always doing lots of exciting things in our classroom, and hope to keep you updated with any new information about our learning, so keep checking back in.
In Team Dolphin, the children worked together to create their own 'Golden Rules' at the start of the year. The children decided that it is important that we are kind to others, we keep learning and always try our best and we listen carefully and follow instructions. We should care about our learning environment and do our best to keep it tidy. We also try hard to respect other people and their opinions, and give praise where it is due.
We also work hard to grow our minds, because we know that we have to challenge our brain to make it stronger. If we are struggling, we know that it is not that we can't do it, we just can't do it YET.
For our latest class newsletter, including important dates, please click here.
Autumn Learning
This term, our topic in Team Dolphin is 'London's Burning!'. We will be learning all about life in the 17th century, and why it is also known as the 'Stuart Era'. We will be learning about the events which led up to the Great Fire of London, as well as recounting the events during the three days that the fire raged. We will be baking bread like Thomas Farriner, writing diaries like Samuel Pepys, and comparing London now to London at the time of the fire. We will also be reading texts such as "The Baker's Boy and the Great Fire of London" and "Charlie and the Great Fire of London" to aid our learning.
In Maths, we will be using Effective Maths to work on place value. This includes Year 1 reading, writing, counting and comparing numbers up to 30 and counting in twos. Meanwhile, the Year 2 curriculum will include reading and writing numbers in numerals and in words, counting in threes, partitioning numbers to identify their place value of each digit and using < and > signs.
In Science, we will be looking at Seasonal Changes, and observing the way the weather changes with the seasons. We will be spotting the signs of Autumn and Winter, hopefully including lots of outdoor learning!