Team Tiger (EYFS)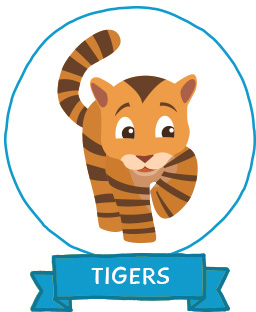 Welcome to Tigers' Class
Dear Parents/Carers
This half term has been very busy and rewarding, getting to know each other and building new relationships between the new children in nursery and reception and the children who were in Team Tigers last year.
The classroom has continued to evolve both inside and out and the children have worked hard towards a class target of putting things back where they belong when we have finished playing with them.
We are now using 'Tapestry' – an on line learning journal to record our observations of children's characteristics of effective learning and early years' outcomes and we are looking forward to parents being able to add information (such as photographs and videos) to their own child's learning journal.
Please do not hesitate to contact any members of the team to ask a question or share information that would be helpful to know about your child.
Thank you
Mrs Beckett (EYFS leader, Reception Teacher)
Mrs Turner (Early Years Educator and Nursery Key Person)
Mrs Murray (Teaching Assistant and Nursery Key Person)