Team Tiger (EYFS)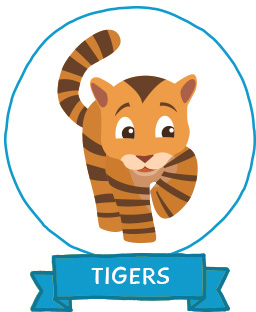 Welcome to Tigers' Class
Dear Parents/Carers,
We will be including things on our website and Tapestry to support you with your child's home learning. Please check these regularly for updates.
Reading
It is important to hear your child read every day to ensure that they continue to make good progress. We will be sending home the Phonics Bug books so that your child will have five texts to read and re-read. Some of the sounds in this scheme differ to the Read Write Inc. (for example, the children have learned the 'ow' sound as in 'snow' but the Phonic Bug begins with the 'oa' digraph as in 'goat'). Included in your home learning packs are the Read Write Inc. sounds that your child has covered in the set 1 and set 2 sounds. The front cover of the Phonics Bug will tell you the sounds covered in the book and this should be explored with your child before they begin to read the book. Read Write Inc. will be releasing short lessons and parental support videos - details have been shared on the Tapestry post.
Writing
A writing activity will be added to Tapestry each week. Ideally, your child will also attempt to write in other meaningful contexts throughout the week (examples include writing cards and shopping lists). They should try to use their phonics knowledge to spell words and attempt to correctly spell the tricky 'red' words that have been taught so far. We will include a list of the red words on Tapestry as well as 'speedy green' words that the children should aim to read at speed by sight.
Maths
We will set a practical maths activity each week on Tapestry. Please continue to encourage daily counting of amounts, looking for numbers in the environment, estimating and practical maths problems (e.g. measuring when baking).
Other Learning Areas
Please look at the suggested sites for ideas to support learning in other areas of the curriculum but also keep in mind that learning through play is often the most meaningful and enjoyable experience. Unstructured play is not only fun but it is critically important for the development of children's bodies and brains. One of the best ways to encourage unstructured play is by providing open-ended toys, or toys that can be used in multiple ways.
Please continue to upload photographs and notes to support the 'EYFS Early Learning Goals'. We ask that you upload just once per week with multiple observations in one message. This will help us greatly with our assessments.
We recognise that this is a challenging time for us all. We hope that you find the learning resources supportive and useful. If you have any other concerns, please contact us through the school email (admin@darringtonschool.org.uk) and keep Tapestry for uploading information towards your child's learning journal.
Thank you,
Mrs Beckett (EYFS leader, Reception Teacher Wednesday to Friday)
Mrs Arnott (Reception Teacher Monday and Tuesday)
Mrs Turner (Early Years Educator and Nursery Key Person)
Mrs Murray (Teaching Assistant and Nursery Key Person)